The classic game of Ludo has now undergone a digital transformation, offering its enthusiasts an exciting and rewarding experience. Welcome to the world of ludo earning apps – platforms that allow you to engage in your favorite board game while also providing an opportunity to earn money. Watch the video below to learn how to play Ludo and win money online:
Ludo money has become an attractive prospect for many, both for its entertainment value and the real cash rewards up for grabs. These ludo earning apps feature a user-friendly interface that mimics the traditional board game, bolstered by high-quality graphics and seamless gameplay. You can compete with players from across the globe, participate in thrilling tournaments, and win big rewards. The ludo money you earn can be easily withdrawn through various secure payment channels.
This article answers some of the most popular questions around Ludo earning apps:
What is a Ludo Earning Apps?
Ludo earning App allows you to play games online with global players and win real Ludo cash on your mobile. They have simple gameplay, and the rules are straightforward and uncomplicated. Moreover, Ludo money games enable you to play games online in different modes such as multiplayer mode (2-4 players), quick mode, 1 vs. 1, 3 winners, 4 winners, etc. You can choose any mode and win real Ludo cash!
Each of the four quadrants on the Ludo online board is of a distinct color: red, blue, yellow, and green. The player generally has four tokens, which they race from beginning to end. Depending on the result of the die roll, the players move their tokens on the online board. Moreover, based on the online Ludo game rules you can strategically play & win the game to earn real cash.
Here are a set of relevant articles related to Ludo money games online:
Best Ludo Money App To Download
If you are looking for Ludo money games that ensure fair gameplay and safe and secure transactions, Zupee is your solution. Zupee owns a 95% market share in the largest gaming sector in India, the casual & board game segment, making it the largest online gaming company.
Zupee creates skill-based games that make people happier in their daily lives by keeping them engaged and amusing and allowing them to win money while they play. It offers 4 types of Ludo games – Ludo Supreme, Ludo Turbo, Ludo Ninja, and Ludo Supreme League.
Learn how to win real cash with Ludo app from Zupee Ludo online cash games.
How to Download Ludo Money App?
Here are 4 steps to download Zupee Ludo games: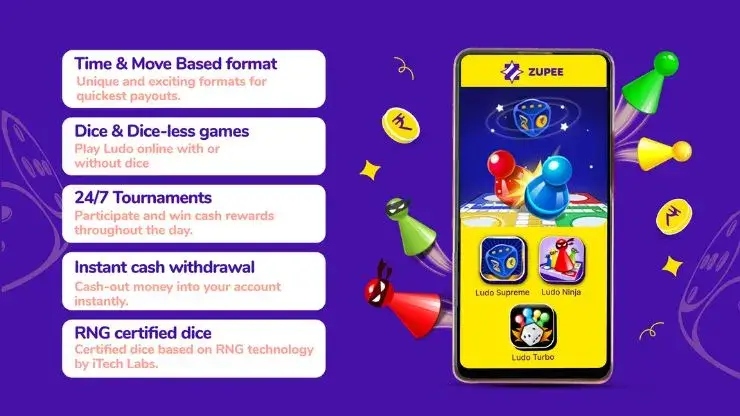 Step 1: Click the "Download App" button. Zupee app provides a variety of games, including Ludo Money Game.
Step 2: Once the Zupee app has been installed, open it. The app will ask you to register. Fill in the required details.
Step 3: After logging in, navigate to the games section on the app. Locate Ludo Money Game like – Ludo Supreme, Ludo Ninja, Ludo Turbo, and Ludo Supreme League. Click on it to open the game.
Step 4: You can play free games or pay an entry fee. If you decide to play entry fee games, you might require to deposit money using various payment modes like debit or credit card, UPI, or digital wallets. Once the money is deposited, you are ready to play and win money through the Ludo Money Game on the Zupee app. Remember, the more you play, the more chances you have of winning. Happy gaming!
Take a look at this video to know more about how to download Zupee Ludo App Games:
Best Ludo Earning Apps in India
Ludo earning apps without investment provides an exciting opportunity for gamers to earn rewards and cash without any upfront financial commitment. These apps offer a digital platform for players to enjoy the popular game of Ludo while competing against other users and earning rewards based on their performance.
With a wide range of options available on various platforms, players can dive into the world of Ludo and make while having fun without needing to invest any money.
| | | |
| --- | --- | --- |
| Ludo Earning Apps | Platform | Rating |
| Ludo King | Android, iOS | 4.5 |
| Ludo Star | Android, iOS | 4.3 |
| Ludo All-Star | Android, iOS | 4.2 |
| Ludo Club | Android, iOS | 4.1 |
| Ludo Classic | Android, iOS | 4.0 |
| Ludo Championship | Android, iOS | 4.0 |
| Ludo Game | Android, iOS | 3.9 |
| Ludo Master | Android, iOS | 3.8 |
| Ludo Empire | Android, iOS | 3.7 |
| Ludo Talent | Android, iOS | 3.6 |
| Ludo SuperStar | Android, iOS | 3.5 |
| Ludo Gold | Android, iOS | 3.4 |
| Ludo 365 | Android, iOS | 3.3 |
| Ludo Pro | Android, iOS | 3.2 |
| Ludo Game Play | Android, iOS | 3.1 |
| Ludo Master King | Android, iOS | 3.0 |
| Ludo Elite | Android, iOS | 2.9 |
| Ludo Party | Android, iOS | 2.8 |
| Ludo Online | Android, iOS | 2.7 |
| Ludo Fantasy | Android, iOS | 2.6 |
Refer to this article to know in detail about the best Ludo Gaming App.
Ludo Money Earning App: Advantages
Here are some of the advantages of the Ludo money app:
---
Mostly, all Ludo money apps offer a payout and a registration bonus that you may use to play the games and win money.
Some Ludo apps also offer a fantastic referral program that allows you to promote friends in exchange for outstanding benefits.
You can also access sizable deposit offers to replenish your wallet and receive bonuses.
You can make money with Ludo apps without investment by playing free-to-play games.
Get quick & easy Ludo money withdrawal with Ludo cash games. You may immediately transfer the money you won into a bank account or Paytm wallet.
Enjoy Ludo games and Jeeto Paisa Online on Zupee.
Ludo Earning App Features
While playing games on Ludo money earning apps, make sure that they value transparency and integrity. How? The best way is to visit the app's official site and investigate the fair play policy. Here are some key points to look out for in a Ludo-winning app to ensure fair play:
A Chance for Everyone to Play Ludo
All players should have equal access to the games.
Players should be subjected to the same game rules and restrictions.
Ensure that the ludo money game app you download takes every precaution to prevent cheating or hacking on the site.
Generally, deadlines are established for each tournament to ensure every player gets an equal opportunity at the game.
RNG certification of Ludo Earning Apps
Make sure that the Ludo games you play have RNG certification. A "Random Number Generator" (RNG) certificate guarantees statistical randomness in the numbers generated by the ludo dice.
A qualified RNG testing authority should approve certification.
Security and Safety of Ludo Players
Make sure the withdrawal process is 100% safe and secure. Ludo apps generally partner with reputable third-party payment gateways that use 3-D secure authentication.
Ludo apps should use industry-leading data security processes and methods to protect users' personal information.
Any personal information shared with the app should only be used for user verification unless it is required by law.
Actual and Valid Ludo Users
Ludo cash apps should ensure only verified users play games on the platform.
No robots should be allowed.
Necessary policies and procedures should be in place to monitor any violations.
Generally, players must provide proof of their identification and account, such as copies of their PAN card and bank account information, before being allowed to withdraw any winnings.
The Ludo app should personally collect and verify documents or do so through a third-party service provider by the applicable law or regulatory authorities.
Zupee Ludo games ensure fair play through a high level of transparency and integrity. Take a look at Zupee's Fair play policies here.
Can I really earn money on Ludo Earning Apps?
Yes, earning money through playing Ludo is possible by downloading the Ludo earning app. These apps offer a platform where players can participate in ludo games and earn rewards or real money. That being said, it's crucial to remain realistic about potential earnings provided by these platforms. While making money by simply enjoying a game of Ludo is exciting, one must remember that it should be considered a consistent or alternative source of income.
Income derived from these ludo earning apps often fluctuates and depends significantly on your game-playing skills. They add an extra layer of excitement and competition to the usual classic board game and provide an opportunity to win some cash. Nevertheless, depending entirely on ludo money for your livelihood is not advisable. Its unpredictability and lack of consistency render it an unreliable source of income. Therefore, while it's a fun and potentially rewarding pastime, playing Ludo for money should be treated as an enjoyable hobby rather than a dependable job.
Can I withdraw Ludo Money Online?
Yes. There are many online Ludo games that allow you to withdraw your winnings. One such Money app is Zupee. Watch the video below to know how to withdraw cash winnings by playing Ludo online games on Zupee:
Why are Ludo earning apps so popular?
The rise of the ludo earning app has revolutionized digital gaming, turning it into a lucrative venture for many enthusiasts. What sparked this trend? The increasing desire to make money online and the universal love for Ludo transcends age, culture, and geography. This perfect blend has positioned ludo-based games as the ideal platform for earning money online. As such, ludo money is no longer just an exciting prospect; it has become a reality for thousands of gamers. With features allowing players to earn cash from their gameplay, the ludo earning app has transformed the perception of online gaming – proving that it isn't just for fun but can also be a viable source of income.
Can I refer Ludo game and earn money online?
Yes, you can make money by recommending a friend to Ludo. After all, the Ludo money app is not just about playing and winning but also proposes a unique feature that allows you to make money by referring it to your friends. It's a win-win situation. Your friend gets a new entertaining and potentially profitable game while you get a referral bonus! The way the Ludo money system functions is quite simple. When you refer a friend, and they sign up using your referral code, the Ludo earning app will reward you with a particular sum. Typically, your friend will also receive a welcome bonus for using your referral code upon signing up.
---
How to Win Ludo Money?
Four forms of online Ludo money games are available on Zupee. Therefore, you can select the gameplay style that suits you best to improve your chances of winning the game.
Win Ludo money on Ludo Supreme
If you want a game similar to the classic Ludo game, then Ludo Supreme is the right choice. However, Ludo Supreme's rules are slightly different from the classic game.
For instance, you must take all four tokens into the home area to win in a classic Ludo game. However, you win the Ludo Supreme game by earning maximum points within a limited timeframe.
Interesting, isn't it? Take a look at this video to learn how to win real money with Ludo Supreme:
Enjoy the trill of Ludo Supreme Gold – Ludo Game. Learn how to download Ludo money APK, aka, Ludo Supreme.
Win Ludo Cash on Ludo Supreme League
Ludo Supreme League is a single-player online Ludo tournament game where you must rank high on the leaderboard to win. It is a move-based game where you get 36 moves to earn maximum points. Here is a video on how to play Ludo supreme league & win Ludo cash:
Move up the leaderboard with Ludo Supreme League. Learn how to download Ludo cash apk, aka, Ludo Supreme League.
Win Ludo Money on Ludo Turbo
To keep the suspense high, play Ludo Turbo at a breakneck pace. It is a contemporary version of the traditional Ludo game with enhanced graphics and skill-based gameplay. Each player gets an equal number of moves, which they need to earn maximum points. Even today's Gen-Z adores Ludo Turbo because it condenses all the benefits of the original game into a manageable package.
Learn how to download and play fast Ludo money game apk and tips to win.
So, if you are a gamer looking for quick gameplay, Ludo Turbo is the game you can try out! Here are the rules to play Ludo Turbo online:
---
Win Ludo Cash on Ludo Ninja
Ludo Ninja is an online multiplayer game where players don't need to roll dice. The values on the dice are visible beforehand, which allows players to strategically play the token. Learn how to download and play the Ludo cash apk, aka, Ludo Ninja:
Read in detail about the difference between the four Zupee Ludo money games.
Ludo Earning App: Takeaway
You may play Ludo money games with actual gamers worldwide while making cash.
You can play various modes like free games, 1 vs 1, 2 winners, etc.
You can play ludo online games without investment by entering free entry fee tournaments. Moreover, Ludo apps are generally free-to-download.
Make sure the Ludo game you play is RNG-certified. An RNG certification proves that the numbers are random and unpredictable, encouraging fair play.
Ludo earning apps should use industry-leading data security processes and methods to protect users' personal information.
Ludo apps should have well-designed procedures for users to contact them and report problems on the helpdesk.
Ludo app games have fast gameplay, and rules differ slightly from the classic Ludo game. Thus, read the laws related to the gameplay before playing.
Ludo Money Earning App: FAQs
How does Ludo earning app work?
Ludo money earning apps allow users to play the popular board game Ludo online with other players for real money. Players can enter tournaments or challenge others to win cash prizes.
Is it safe to play Ludo on Ludo earning apps?
Most Ludo money earning apps are safe to use, but choosing a reputable app with secure payment methods and fair gameplay is important. It's also essential to read the app's terms and conditions before playing to avoid any issues.
Are Ludo money earning apps trustworthy?
Yes, it is totally okay to trust Ludo apps, provided you first review the app's reviews and policies before playing. Generally, Ludo apps do not share your banking information and personal data. They are safe and secure. Learn how to download the Ludo apk and win money.
How much can you earn from Ludo earning apps?
The amount you can earn from Ludo money earning apps varies depending on the app and the tournament or game you enter. Some apps offer lower entry fees and smaller cash prizes, while others offer higher entry fees and bigger rewards.
Whom am I competing with while playing Ludo money games?
You compete with verified online players. All the players are legitimate, confirmed individuals from around the nation. On such an app, participants are matched randomly against each other.
Is Ludo an Indian game?
Ludo is a variation of the Indian game Pachisi, just like other cross and circle games. The game and its variants are well-liked in numerous nations and go by different names. Here are other board games that originated in India.