In our fast-paced world, we often search for quick, enjoyable ways to relax and unwind. One of these ways is indulging in fast games that require strategy and competitiveness. This article will dip your toes into the thrilling world of fast games. Specifically, we'll be talking about Ludo fast games that involve quick thinking and planning, snake and ladders super fast games with an exciting twist of speed, and card games that keep us on the edge of our seats with their rapid gameplay. If you're a fan of fast gaming, stick around, you're in for a treat!
What are Fast Games?
Fast games are online or digital games designed for quick play sessions. They often have simple control mechanisms and straightforward objectives and are easy to understand and play. Perfect for players seeking entertainment during short breaks, these games can typically be completed within a few minutes to an hour. They come in various genres, including board games, puzzles, action, strategy, and more. Despite their simplicity, fast games can still offer challenging scenarios that require skill and strategic thinking.
Take a look at Fast game categories:
Best Ludo Fast Games
Ludo, a classic board game that has entertained generations, has now taken on a new dimension with the advent of fast-paced versions. These modern twists on the traditional game have injected excitement and competitiveness, making them ideal for a quicker and more thrilling gaming experience.
Zupee skill gaming platform offers 4 variant of Ludo fast games that allows you to play Ludo online in 10 minutes & win real money.
Fast Gaming with Ludo Ninja
Ludo Ninja, an online version that doesn't use traditional dice, allows players to preview the upcoming dice value. This feature enables players to select which token to move next strategically. This Ludo fast game has 2-4 player modes turn-based, and each player is allotted 28 moves.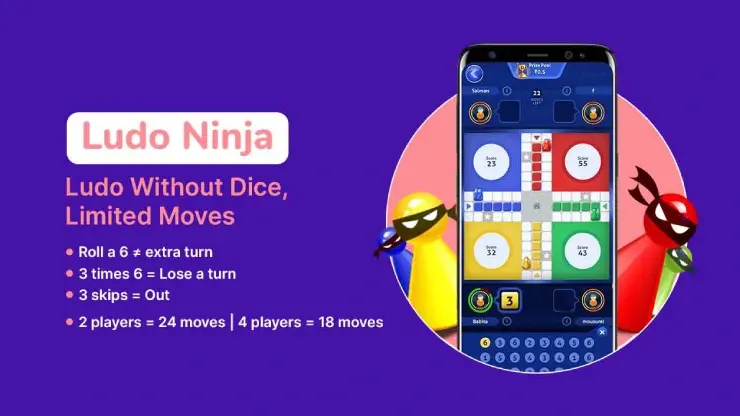 Download Ludo Ninja Apk and iOS version
Speed Game on Ludo Turbo
This Ludo fast game offers a high-energy, action-packed twist on the classic game that will grip your attention. Today's teenagers are particularly attracted to Ludo Turbo because it limits players to 30 moves, making playing with two players especially exciting.
Discover how to play Ludo fast game with Ludo Turbo on Zupee and have the chance to win real money by watching this video:
A quick game on Ludo Supreme
Ludo Supreme is a leading Android game offering fast-paced and entertaining gameplay. The winner is determined by the player who accumulates the highest number of points within a specified time frame, which varies depending on the number of participants. This ludo-fast game allows multiplayer engagement, accommodating up to four players who can compete for real cash prizes.
Watch this video to learn how to play Ludo fast game with Ludo Supreme on Zupee:
Quick gaming on Ludo Supreme League
The Ludo Supreme League stands out as a prominent single-player online Ludo tournament. In this Ludo fast game, you aim to accumulate the highest number of points within 36 moves to secure a prominent position on the leaderboard. Here's a guide on how to participate in the Ludo Supreme League on Zupee:
Snakes & Ladders Super Fast Game
Snakes and Ladders Super Fast Game offers a thrilling twist to the classic board game. In Zupee's Snakes and Ladders Plus, players can choose from various game modes, including 1 vs. 1, 1 winner, 2 winners, or 3 winners. Roll the dice strategically to reach the 100th position while climbing ladders to boost speed and avoid snakes that set you back.
Earn points for each move and bonus points for reaching home. By cutting your opponent's tokens, you can reduce their points and gain an extra move, making it a competitive and engaging gaming experience. The player with the highest score emerges victorious in this exciting adaptation of a beloved game. Download the Zupee app and dive into the fast-paced fun today!
Fast Gaming Card Games
"Fast Gaming Card Games" refers to card games that are designed for quick and intense gameplay. These games often have simple rules, short rounds, and a fast pace, making them ideal for quick entertainment.
Zupee, a well-known online gaming platform where you can play for cash, provides a diverse selection of card games tailored to various tastes. Whether you enjoy the strategic aspect of trump cards or prefer a unique take on online tambola, Zupee has successfully encapsulated the spirit of cricket within these games. They blend the excitement of cricket with the chance to earn real cash prizes, elevating the thrill to a new level.
Three different types of fast gaming card games on Zupee are:
Quick Gaming with Trump Cards Mania
Experience the quick game of Trump Cards Mania, an IPL-based online cricket cards game that offers the chance to win real cash. Dive into an intense 2-player match using a deck of 11 cards categorized into Gold, Silver, and Bronze tiers. Participate in a tournament where you must swiftly select your Captain and Vice-Captain within a 60-second to unlock bonus rounds. Engage in 11 rounds of gameplay, carefully choosing statistics within a 15-second window. Accumulate points by winning statistical comparisons, with the opportunity for additional points during bonus rounds. Employ your time bank wisely to secure a victory. The player with the highest point total emerges as the victor in this thrilling, quick game.
Fast Gaming Card Game with Cricket Cards
Zupee Cricket Cards is a multiplayer fast game with cards that meld the worlds of cricket and trump cards for a chance to win real money. Participants engage in cricket tournaments in this exciting game utilizing their card decks. By strategically selecting categories, players challenge their opponents, with the higher-valued card winning.
To begin your cricket card adventure, simply select a tournament, designate a Captain and Vice-Captain for bonuses, and commence with a starting hand of 11 cards. You'll have 10 seconds to select based on statistics, accumulating points based on your victories and ties. The player accumulating the most points and securing a prominent rank on the leaderboard will ultimately claim victory and the accompanying rewards.
Quick Gaming Cards Game on Cricket X Tambola
Discover the quick gaming cards game that is cricket-infused with a unique twist of tambola in Zupee Cricket X Tambola! This multiplayer experience seamlessly blends the classic tambola with live cricket action. Upon entering the game, every player receives two tambola tickets. However, instead of traditional numbers, the game showcases cricket-related events.
You can select a tournament, receive sealed tickets, and then race against the clock to mark off highlighted events within a tight 15-second window. Accumulate points by claiming rows corners, or achieving a full house while striving to secure a top position on the leaderboard and emerge victorious. Dive into the world of Zupee Cricket X Tambola for an electrifying online cricket gaming experience!
Fast Gaming: How to Download & Play?
Zupee is a genuine fast gaming platform where you can play skill games. Ludo Supreme | Ludo Ninja | Ludo Turbo | Ludo Supreme League | Snakes & Ladders Plus | Trump Cards Mania | Cricket X Tambola | Cricket Cards.
First, visit our website to download the fast-paced game and patiently wait for the installation process to finish. After successfully installing the game, you can register your account and embark on your gaming adventure. During registration, you must provide essential information, including your name, email address, and phone number. Once your account is set up, you're only one step away from commencing your journey with these quick games.
Here's a video on how to download the latest version of Zupee on your mobile device and start playing real-money games:
Speed Games: How to Withdraw Winnings?
Player trust and a fair gaming environment are paramount in fast games.
Zupee, a platform for playing various speed games, guarantees 100% security and authentication. Every game is conducted fairly, and the system is designed to prevent players from cheating or manipulating the game. In simpler terms, Zupee's speed games strictly prohibit any actions that undermine the fair and competitive spirit of the game.
Additionally, Zupee employs a secure payment gateway for all in-game transactions. This means you can play, win, and withdraw your earnings with complete confidence, knowing that the platform places your security as its top priority.
Watch this video to learn how to withdraw your winnings through UPI (Paytm, GPay, etc.) or a bank account on Zupee:
Fast Games: FAQs
What are fast games?
Fast games are quick-paced, often high-energy activities or video games designed to be completed quickly for rapid enjoyment.
How long does a typical fast game last?
Fast games can vary in duration but usually last from a few seconds to a few minutes, offering quick bursts of entertainment.
What are some examples of fast games?
Examples of fast games include Ludo, Snakes and Ladders Plus, Cards Games such as Cricket cards, Trump Cards Mania, Cricket X Tambola etc.