Fantasy cricket has captured the imagination of millions of cricket fans in India and has become one of the most popular online gaming experiences. With cricket being a religion in the country, no cricket enthusiast would miss out on any World Cup, IPL match, Champions Trophy, or T20 World Cup.
If you have a basic understanding of cricket and a passion for the sport, playing online fantasy cricket games can be an absolute joy. To assist those who are new to the world of fantasy cricket, we have compiled a comprehensive beginner's guide. This guide will provide you with fantasy cricket tips, rules, and gameplay to enhance your experience.
Get ready to dive into the exciting world of fantasy cricket and unleash your strategic prowess!
What Is Fantasy Cricket?
Fantasy cricket is an engaging online sports game that revolves around strategic decision-making. In this game, participants form a virtual team comprising real-life cricketers who are actively playing in live matches around the globe. The objective is to accumulate points based on the actual performances of these chosen players in their respective matches.
To succeed, players must carefully select the best 11 from a pool of 22-25 cricketers participating on a specific day and aim to outscore their opponents. If your score ranks among the top participants in that specific match, you have the opportunity to win real cash.
Did you know you can now play three types of Cricket games on Zupee & Win Real money?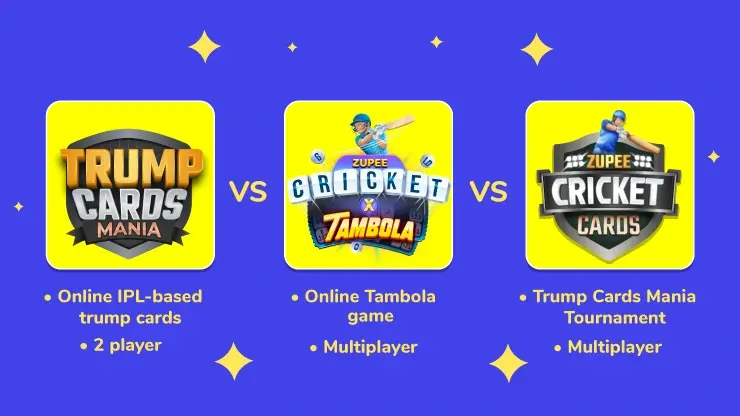 History Of Fantasy Cricket In India
The concept of fantasy sports, including fantasy cricket, originated in the United States in the 1950s, gaining global traction with the rise of the internet and digital platforms in the late 20th century. In the early 2000s, fantasy cricket made its entry into India, starting with small-scale platforms centered around international cricket tournaments like the ICC World Cup.
Learn about which country will host the 2023 cricket world cup.
However, the popularity of the fantasy cricket league soared in India with the advent of the IPL (full form: Indian Premier League) in 2008. The IPL's high-quality cricket, star players, and innovative formats provided an ideal platform for enthusiasts to engage in the game. The widespread availability of smartphones and increasing internet penetration in India led to the development of a user-friendly fantasy cricket app, enabling fans to conveniently access and play anytime, anywhere.
This relatively recent history of fantasy cricket in India has seen remarkable growth and popularity. Projections indicate that the fantasy cricket industry will exceed $3.7 billion by the conclusion of 2024, suggesting a substantial portion of India's population may actively engage in fantasy sports.
The impact of fantasy cricket on the Indian sports landscape is truly remarkable, propelling the sport to unprecedented levels of popularity and capturing the imaginations of cricket enthusiasts nationwide. The fervor surrounding fantasy cricket serves as a testament to its transformative influence on the cricketing scene in India.
What makes online cricket fantasy interesting?
Online fantasy cricket offers an engaging and thrilling experience that keeps fans hooked. Let's explore what truly makes it so interesting:
Create Your Fantasy Cricket Teams
Exciting Online Fantasy Matches
Winning Factor
Create Your Fantasy Cricket Teams
One of the key aspects of fantasy sports is that it puts you in control. In online fantasy cricket, you have the opportunity to create your own team of 11 players. This allows you to showcase your knowledge and strategic skills by selecting the players you believe will perform well. It's a refreshing change from passively watching a team play that you may not necessarily agree with. With the power to create and manage your team, you become an active participant in the game.
Exciting Online Cricket Fantasy Matches
Indian fantasy cricket ensures that every match is filled with excitement and anticipation. When you play cricket fantasy online, it feels like you are personally involved in each match alongside the real cricket team. The ups and downs, the thrill of seeing your selected players perform, and the competition against other fantasy managers create a level of engagement that keeps you on the edge of your seat. The dynamic nature of online fantasy cricket ensures that there is never a dull moment.
Winning Factor
Fantasy gaming can be highly rewarding, both in terms of entertainment and potential prizes. Playing online fantasy cricket allows you to experience the adrenaline rush of competing and winning. When your selected players perform well on the field, you reap the rewards in terms of points and rankings. Additionally, many online fantasy cricket apps offer cash rewards and prizes, adding an extra level of excitement. Winning in cricket fantasy not only brings a sense of achievement but also the possibility of earning real-world rewards.
Benefits Of Playing Fantasy Cricket Online
Playing fantasy cricket online comes with numerous benefits that enhance your overall cricket experience. Here are some key advantages:
Enhances knowledge
Community engagement
Heightened excitement
Social engagement
Enhances knowledge
Participating in fantasy cricket requires extensive research and analysis of players and teams. This process helps you deepen your understanding of the sport and its intricacies, improving your overall knowledge of cricket.
Enhance your cricket knowledge. Refer to these articles: How to play Cricket | Cricket Rules | What is Strike Rate in Cricket | What are extras in cricket | How many players are there in a cricket team?
Community engagement
Online fantasy cricket apps provide a vibrant community of like-minded individuals who share your passion for the sport. You can connect, interact, and compete with fellow cricket enthusiasts, fostering a sense of camaraderie and shared excitement.
Heightened excitement
Watching cricket matches becomes even more thrilling when you have a personal stake in the game. By selecting your own fantasy cricket team, you remain engaged throughout the match, eagerly following the performances of your chosen players.
Social engagement
Participating in fantasy cricket leagues and contests provides an enjoyable and interactive social activity. You can compete against your friends and colleagues, earning bragging rights based on your performance. It adds a fun and competitive element to your relationships and conversations.
How to Play Fantasy Cricket Online?
With numerous online platforms offering fantasy cricket, getting started is incredibly easy. Follow these simple steps to begin your journey into the world of fantasy cricket:
Step 1: Choose a Reputable Fantasy Cricket App
Start by selecting a reputable fantasy cricket app. Look for apps that have a user-friendly interface, a wide range of contests, and a reliable scoring system. Sign up for an account or log in if you already have one.
Step 2: Select a fantasy league
Once you're logged in, browse through the available matches and choose the one you would like to play. Fantasy cricket allows you to participate in various domestic and international matches, including T20 leagues, One-Day Internationals (ODIs), and Test matches.
Step 3: Create a Team
After selecting a match, it's time to create your fantasy teams. Each platform provides a virtual budget of 100 credit points, which you can use to pick players for your team. You'll need to choose players from both teams participating in the match. Consider players' recent form, performance, and track record while selecting your team.
Step 4: Choose Your Captain and Vice-Captain
In fantasy cricket, choosing the right captain and vice-captain is crucial, as they earn additional points for your team. The captain receives double the points, while the vice-captain earns 1.5 times the points. Select players who you believe will perform exceptionally well in the match to maximize your score.
Step 5: Choose a Contest
Online fantasy cricket apps offer a variety of contests with different entry fees, prize pools, and formats. Choose a contest that suits your preferences and join it. You can compete against other players and stand a chance to win exciting cash prizes, merchandise, or other rewards.
Step 6: Track Your Score and Winnings
As the real match progresses, your fantasy teams will earn points based on the performance of the players you have selected. The online platform will update the scores in real-time, allowing you to track your team's performance. At the end of the match, the final scores will be calculated, and if your team performs well, you'll win prizes according to the contest rules.
How To Create Your Fantasy Cricket Dream Team?
Creating a fantasy cricket dream team requires a combination of skill, knowledge, and strategic thinking. To assemble a winning fantasy cricket team, here are some generic points to following:
Player Credit Scores: Each player is assigned credit scores based on their current form and performance. These scores determine the value of the players in the fantasy cricket game.
Build within Credit Points: You have a limited number of credit points available to create your team. Make sure to stay within this budget while selecting players. The credit points assigned to players reflect their perceived value and popularity.
Player Distribution: Your team must consist of players from different categories. Select a maximum of 7 players from a single team. Here's the general distribution guideline:
| | | |
| --- | --- | --- |
| Player Distribution | Minimum | Maximum |
| Wicket Keeper | 1 | 4 |
| Batsman | 3 | 6 |
| Bowler | 3 | 6 |
| Allrounder | 1 | 4 |
Appoint Captain and Vice-Captain: After selecting your 11 players, appoint a captain and a vice-captain. The captain earns double the points, while the vice-captain earns 1.5 times the points. Choose these roles strategically, as they can greatly impact your team's overall score.
Save Your Team: Once you have made your player selections and designated a captain and vice-captain, save your team. This ensures that your choices are locked in and cannot be changed once the match begins.
Choose High-Performing Players: Consider selecting players who are expected to score maximum points on the field. Analyze player statistics, recent performances, and playing conditions to make informed decisions about which players are likely to excel.
Depending on the gameplay, the rules to play fantasy cricket games may differ. Make sure to read the gameplay and scoring rules carefully.
Types Of Fantasy Cricket Leagues
There are various types of fantasy cricket leagues that cater to different preferences and gameplay styles.
Standard fantasy league: These standard fantasy leagues follow the traditional format, where participants create their teams and compete based on the actual performance of players in real-life matches.
Daily fantasy league: As the name suggests, these leagues run for a single day or match. Participants can create new teams for each match, enhancing the thrill and strategy involved.
Private fantasy league: Private leagues allow participants to create their own exclusive leagues, inviting friends, colleagues, or like-minded individuals to compete against each other.
Mega fantasy league: These leagues involve a large number of participants, making the competition more intense and challenging. The prize pools for mega leagues are often substantial, attracting passionate fantasy cricket players.
Auction fantasy league: In auction leagues, participants bid on players to form their teams. This format adds an extra layer of strategy as participants must manage their budgets effectively.
Fantasy Cricket Point System
The fantasy cricket point system is a crucial aspect of the game, determining the scores and rankings of players in a fantasy cricket contest. Here's a breakdown of the key elements of the fantasy cricket point system:
Batting Points
Bowling Points
Fielding Points
Captain and Vice-Captain Multiplier
Negative Points
Powerplay and Death Overs
Bonus Points
Penalty Points
Live Updates
| | | |
| --- | --- | --- |
| Category | Points Earned | Examples |
| Batting Points | Runs scored, boundaries hit, sixes | Half-centuries, centuries |
| Bowling Points | Wickets taken, maidens bowled | Five-wicket hauls, specific wicket milestones |
| Fielding Points | Catches, run-outs, stumpings | Outstanding fielding performances |
| Captain and Vice-Captain Multiplier | Captain: double pointsVice-Captain: 1.5x points | – |
| Negative Points | Conceding boundaries, bowling no-balls, getting dismissed for a duck | – |
| Powerplay and Death Overs | Extra points for batting or bowling during powerplay or death overs | – |
| Bonus Points | Player of the Match award, high individual score, catches or wickets milestone | – |
| Penalty Points | Player of the Match award, high individual score, catches, or wickets milestone | On-field misconduct, disciplinary issues |
| Live Updates | Real-time performance and point updates during a live match | – |
*The point-scoring system may differ depending on the game you select to play.
Batting Points
Players earn points for their batting performance, such as runs scored, boundaries hit, sixes, and strike rate. Bonus points may be awarded for achieving milestones like half-centuries or centuries.
Bowling Points
Bowlers accumulate points based on wickets taken, maidens bowled, economy rate, and the number of dot balls. Bonus points may be awarded for taking a specific number of wickets or achieving a five-wicket haul.
Fielding Points
Fielding contributions are also rewarded, with points given for catches, run-outs, stumpings, and direct hits. Outstanding fielding performances may earn bonus points.
Captain and Vice-Captain Multiplier
The captain and vice-captain selections carry additional weightage, with the captain typically earning double the points scored by them, while the vice-captain earns 1.5 times the points.
Negative Points
Poor performances or negative actions like conceding boundaries, bowling no-balls, or getting dismissed for a duck may result in deductions of points.
Powerplay and Death Overs
Some fantasy cricket apps may award extra points for batting or bowling during the powerplay or death overs, recognizing the significance of these phases in the game.
Bonus Points
Additional bonus points may be given for exceptional performances like winning the Player of the Match award, achieving a high individual score, or taking a certain number of catches or wickets.
Penalty Points
Fantasy cricket point systems may also include penalties for code of conduct violations, such as on-field misconduct or disciplinary issues.
Live Updates
The fantasy cricket app provides real-time updates on players' performances and points earned during a live match, allowing participants to track their team's progress and make strategic decisions accordingly.
Fantasy Cricket Tips & Tricks
Fantasy cricket tests your knowledge of the sport, decision-making ability, and analytical skills. Knowing a few simple tricks can be the key to winning fantasy cricket games. Take a look at the fantasy cricket tips and tricks below to ace fantasy games:
Play only the matches you have sufficient knowledge about to increase your chances of winning.
Choose players from the playing 11 of both teams based on the toss.
Consider factors like pitch reports, weather conditions, average scores, and past performances of players before making selections.
Utilize detailed player statistics available on platforms to pick the best players for the match.
Find a balance between current form and potential while selecting your fantasy teams.
Give priority to openers and middle-order batsmen in T10/T20 matches as they have higher chances of scoring runs and earning fantasy points.
Participate in multiple contests and create multiple teams to enhance your chances of winning.
Trust your instincts while selecting players, in addition to relying on skills, analysis, and knowledge of the game.
Keep an eye on lesser-known players who can be game-changers for your fantasy teams.
Gain insights from match predictions provided by experts for upcoming fantasy cricket matches.
How to Win Money in Fantasy Cricket
Remember, winning money in fantasy cricket involves a mix of skill, research, and a bit of luck. It's crucial to approach it as a long-term endeavor, constantly honing your skills and adapting your strategies based on new information and insights. If you want to increase your chances of winning money in fantasy cricket, here are some key strategies to consider:
Choose the Right Fantasy Cricket App
Start by selecting a reputable and trustworthy fantasy cricket app that offers cash prizes. Research different platforms read reviews, and consider factors like user experience, prize structure, and customer support. A reliable platform can provide a fair and enjoyable gaming experience.
Understand the Point System
Familiarize yourself with the point system of the fantasy cricket platform you're playing on. Each platform assigns points to players based on their performances in real-life matches. Understand how points are awarded for runs, wickets, catches, strike rates, economy rates, and other statistical categories. This knowledge will help you make informed decisions while selecting players for your team.
Research and Analyze
Stay updated with the latest news, team formations, and player performances in real-life cricket. Analyze player statistics, recent form, pitch conditions, and past performances in specific match formats. This research will help you make informed decisions while selecting players for your fantasy teams. A well-researched team has a higher chance of earning more points.
Select the Right Players
Building a balanced team is crucial for success in fantasy cricket. Select players from different teams who have a high likelihood of performing well in upcoming matches. Consider factors like a player's batting order, recent form, pitch conditions, and historical performance against the opposition. Creating a diverse team increases your chances of earning points across different aspects of the game.
Manage Your Budget
Most fantasy cricket platforms provide a virtual budget to build your team. Allocate your budget wisely, focusing on a mix of star players and underrated performers who offer good value for their price. Avoid overspending on popular but expensive players, as it may restrict your options for selecting other quality players. Budget management is essential for building a well-balanced team.
Use Captain and Vice-Captain Wisely
The captain and vice-captain selections carry extra weight in terms of earning fantasy points. Consider choosing players who are consistent performers and have a higher chance of making a significant impact in the match. Optimize your captain and vice-captain choices to maximize your potential points. A strategic captaincy choice can significantly boost your team's performance.
Join Multiple Contests
Participate in multiple contests with different entry fee ranges and prize pools. This strategy allows you to diversify your chances of winning and increases the likelihood of securing cash prizes. Joining various contests also provides an opportunity to challenge your skills against a range of opponents.
Fantasy Cricket: FAQs
What is Fantasy Cricket?
Fantasy cricket is an online game where participants create virtual teams of real cricket players and earn points based on their performance in actual cricket matches.
What is A Fantasy Cricket App?
A fantasy cricket app is a mobile application that allows users to play fantasy cricket games, create teams, join contests, and track the performance of their chosen players in real-time.
How To Make A Good Fantasy Teams?
To make good fantasy teams, analyze player statistics, consider pitch and weather conditions, select a balanced combination of batsmen, bowlers, and all-rounders, and stay updated with team news and player form to make informed choices.
Is Playing Fantasy Cricket in India legal and safe?
Yes, playing Fantasy Cricket online in India is legal and considered safe as it falls under the category of games of skill and is regulated by the relevant authorities.
How do you win in fantasy cricket?
To win in fantasy cricket, select a well-balanced team with skilled players, consider pitch conditions, and track player performance to make informed captain and vice-captain choices.
Can I win Money Playing Fantasy Cricket?
Yes, it is possible to win money playing fantasy cricket by participating in paid contests and leagues where you compete against other players and earn cash prizes based on your team's performance.