The popularity of online gaming in India has seen a significant increase over the past few years. Several factors, including the growing availability of high-speed internet and the widespread adoption of smartphones and other gadgets, have made it easier for Indians to access online games.
Furthermore, the proliferation of online gaming platforms and the growing popularity of Esports in India may also have played a role in the increasing popularity of online gaming in the country. Overall, online gaming is expected to be a significant part of the Indian gaming market in the coming years.
One can also win real cash by just playing games on mobile apps. This article will list the top Indian online games to play in 2023. The best part – you can win up to 10 lakhs in winnings!
Online Indian Games
Many online platforms and websites offer a variety of games to win real money. For numerous gaming enterprises, India is the land of opportunity. The online gaming market in India has seen significant growth in recent years. The Indian gaming market is expected to grow from $2.8 billion in 2022 to $5 billion in 2025.
The market is dominated by casual and puzzle games, which are the most popular among Indian players. However, genres like racing and fighting games are becoming increasingly popular due to their innovative designs and engaging gameplay.
Additionally, mobile gaming is emerging as the main platform for game developers due to its accessibility and added convenience to users. Overall, the Indian online gaming market is exciting and offers great potential for innovative game developers and publishers.
Play online Indian games to win real Cash
Online Indian games to win real cash are becoming increasingly popular in India. The gaming industry in India has been booming for some time, and with the emergence of mobile gaming, the market has only grown even more. Here you can indulge in classic, traditional Indian games while enjoying the convenience of playing from home.
With the chance to win real cash and stunning rewards, online Indian gaming provides an exciting and thrilling experience to gamers of all levels. From games such as blackjack and poker to popular board games like carrom and Ludo, you will find a game to suit your skills and interests.
Each game offers its own way of winning, so it's best to research different online games before settling on one. Additionally, it's also important to make sure that the online game you choose is from a reputable website, as there are many shady websites out there.
Top Indian games online
Are you looking for ways to win money by playing skill-based games online? Zupee offers a great selection of options. The leading Indian gaming company has a wide range of popular games that allow players to win real money while enjoying the thrill of competition and the excitement of playing skill-based games.
Zupee games provide players with a fun and engaging way to win money online and are a great option for those looking to make the most of their skills and talents while playing online. With its innovative approach to online gaming, Zupee has quickly become a leader in the Indian gaming industry and is set to continue its growth and success in the coming years.
Here is the list of top Indian online games:
Ludo Supreme
Ludo Supreme is a popular online game by the Indian gaming company Zupee. The gameplay is based on the classic board game Ludo. In Ludo Supreme, players compete against each other in real-time to move their game pieces from their starting positions to the center of the board. The game also has a free entry fee mode for practicing and improving skills.
Apart from the free entry fee mode, there are entry fee modes that allow players to compete in competitions for real money. The tournaments are held regularly and are open to all, offering a chance to test skills against the best players. The vibrant graphics and gameplay are quick, ensuring a fun and engaging experience.
Ludo Supreme League
Want to play Ludo solo? Ludo Supreme League is a single-player online Ludo tournament where you must earn maximum points and rank high on the leaderboard. All players enter the tournament and get Yellow tokens to play. There will be 12 tokens on the board for the players to cut and earn points. All players will have the same board and token placement to maintain fair gameplay.
Watch this video below to learn how to play a single-player tournament on Zupee:
Ludo Ninja
Ludo Ninja is another innovative approach by Zupee to the popular board game Ludo, where there are no dice. One of the game's standout features is that it displays the values players will receive upfront. It allows players to strategically plan their moves against their opponents, helping them improve their chances of winning. The added element of strategy and planning makes Ludo Ninja an exciting and challenging game for players of all skill levels and adds an extra layer of depth and complexity to the classic board game.
Ludo Turbo
Designed to save time and speed things up with excitement, Ludo Turbo by Zupee is another modern take on Ludo known for being fast-paced and action-packed. In this game, players take turns rolling a die and moving their tokens around the board, trying to be the first to get all of their tokens to the center of the board. Ludo Turbo is a move-based game where you must earn maximum points to win within limited moves.
Snakes and Ladders Plus
Snakes and Ladders Plus by Zupee is based on the classic snakes and ladders board game of the same name, where players roll a die to move their tokens along a game board to reach the final square before their opponents. In Snakes and Ladders Plus, players can compete in real-time multiplayer matches. The tokens are set up and ready to go, so there is no need to roll a six to start the game. One of the unique features of this game is that each player gets a limited number of moves to win.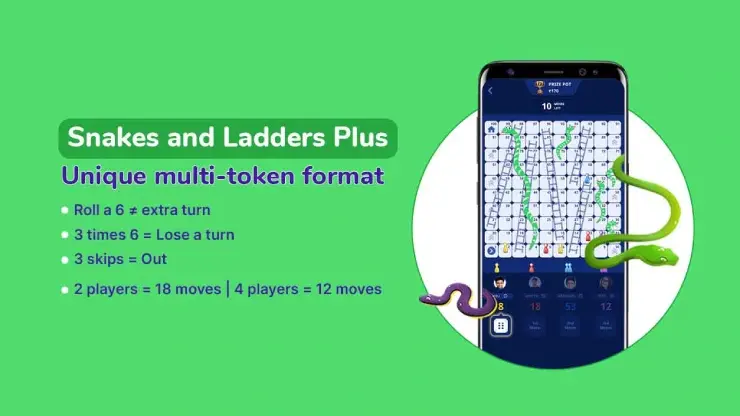 Trump Cards Mania
The most sought-after game in the early '90s was trump cards. Zupee brings back the nostalgia and entertainment this game provides with Trump Cards Mania. Two players can play this game where they must choose a captain and a vice-captain from the eleven cards of IPL batsmen names. At the beginning of each round, players can choose which stat they want to challenge their opponent with. Once a player and the opponent have selected their stat, their cards are revealed, and the stats chosen by both players are compared. The player with a higher stat is the winner for that round.
Zupee Cricket X Tambola
As the name suggests, Zupee Cricket X Tambola is a mix of Tambola and Cricket. The online Tambola game by Zupee allows you you play tambola while enjoying a Live cricket match. Each player gets two locked tickets. During a Live cricket match, when an event occurs, your tambola tickets will highlight those events. You need to choose two boxes to cut. There are 5 types of tambola winning combinations. For each combination, certain points are awarded. The player with the maximum points by the end of the tournament wins!
Watch this video below to learn how to play Tambola Game online on Zupee:
Online Gaming Indian platforms – Zupee
Zupee can provide numerous benefits to players. Let us look at some of these advantages:
Zupee offers instant withdrawal of money through payment methods, such as UPI.
Zupee takes an easy, secure, and legal approach to online gaming, providing players with entertaining and engaging games that also offer the opportunity to win money.
Combining entertainment and winning real cash makes Zupee an attractive option for those looking to enjoy online gaming while winning real money.
Zupee games are available 24/7, providing real players are ready to match and compete.
No bots.
Round-the-clock customer care throughout the week and is well-known for its excellent and diligent customer service.
Look at the advantages of playing and winning money on Zupee.
Online Indian Games FAQs