Traditional board games like Ludo have found a fresh breath of life in the digital age. While the thrill of rolling dice and racing tokens to their home square dates back centuries, technology has spun this simple pastime into an addictive and accessible online experience. Topping the charts in this transition is none other than Zupee Ludo games, that capture the classic charm with a modern twist. But, as vast as the online gaming cosmos is, an entire constellation of Ludo games is waiting to be explored.
Join us as we venture into the realm of Ludo, highlighting the best Ludo cash games on Zupee and spotlighting 15 other contenders that have entranced gamers globally. Whether you're a die-hard Ludo enthusiast or a curious newbie, this is your ultimate guide to diving deep into the Ludo universe!
Best Ludo Cash Game
There are currently 4 different variants of Ludo available on the Zupee gaming app, each offering its own challenges and thrills. They are as follows:
Best Ludo cash games on Ludo Supreme
Experience the exhilaration of strategy and excitement with Ludo Supreme! Engage in this ultimate game where you can win real money while rolling the dice and making strategic moves to eliminate your opponents' tokens. Every move counts, and with skillful gameplay, you have the chance to claim amazing rewards. Don't miss out on the fun and lucrative opportunities that Ludo Supreme offers.
Here is how to Play Ludo Online With Ludo Supreme:
Best Ludo cash games on Ludo Turbo
Step into the world of Ludo Turbo, where the thrill of winning real money awaits you! Strategize wisely, eliminate your opponents' tokens, and race your pieces toward the finish line. The clock is ticking, so act swiftly! Download the Turbo Speed Ludo Game APK from Zupee now to embark on this thrilling journey.
Watch out this video & find out how to play ludo games with Ludo Turbo online:
Best Ludo cash games on Ludo Ninja
Enter the realm of Ludo Ninja, the ultimate Ludo game that allows you to win real cash! Swiftly move your pieces out of the home base and aim to land on safe squares, while tactically evading your opponents' attempts to hinder your progress. Employ strategic moves, block your rivals, and create opportunities to capture their pieces. Patience is key as you await the perfect moment to strike and emerge victorious in Ludo money games. Regular practice will help you master these Ludo tactics and secure triumphant wins.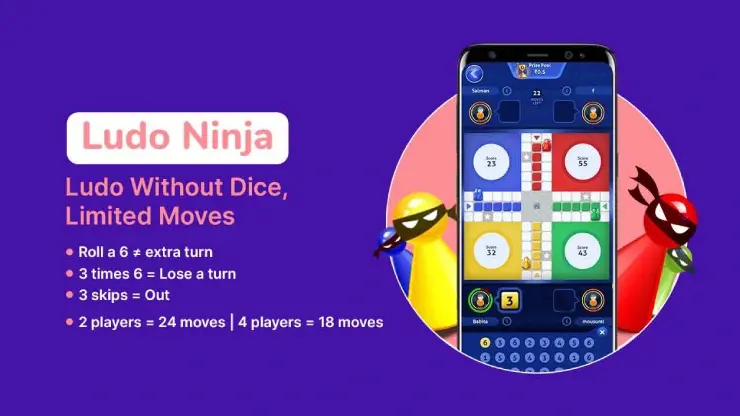 Best Ludo cash games on Ludo Supreme League
Join the Ludo Supreme League and bask in the excitement of winning real cash while reliving the joy of your favorite childhood game! Sharpen your Ludo skills through regular practice and take part in daily Ludo tournaments. Engage in friendly competitions with fellow players to refine your gameplay. By joining Ludo communities, you can exchange strategies and tips, enhancing your chances of climbing the leaderboard and securing glorious victories. Embrace Ludo Supreme League's thrill and revel in its rewards.
Find out how to play Ludo games with Ludo Supreme League by watching out the below video:
Best Ludo Paytm Cash Game
The Zupee App has formed a partnership with Paytm to facilitate online gaming transactions. This collaboration enables users to conveniently add funds to their Zupee wallet by making instant deposits through Paytm. Likewise, players can effortlessly withdraw their Ludo winnings via Paytm, offering flexibility for online transactions or transfers to their bank accounts.
The integration of Paytm within Zupee ensures secure and hassle-free transactions, boasting advanced security measures and a user-friendly interface. This payment option caters to users' preferences, making it more attractive to a broader audience. So, embark on your journey to win money with online Ludo games on Zupee while enjoying the benefits of this Paytm partnership.
Take a look at how to win Ludo Paytm games on Zupee.
Popular Ludo Game App in 2023
If you are a fan of Ludo games and want to experience the thrill of playing your favorite game on your mobile device, we've got a treat for you. As the craze of mobile gaming increases, countless Ludo gaming apps have emerged in the market that offer an unparalleled gaming experience. Whether you want to play with friends or against AI, there's a Ludo app for you. Explore popular Ludo apps and up your gaming experience!
The below table lists some of the popular Ludo gaming apps:
Skill Ludo
Ludo Superstar
Ludo Sikandar
Ludo Premium
Ludo League
Ludo King
Ludo Hunt
Ludo Fantasy
Ludo Empire
Ludo Club
Playerz Pot
Gamezy
EWar Games
Khiladi Adda
4P Ludo Pro
| | | |
| --- | --- | --- |
| Ludo Gaming App | Platform Available On | Approx. Downloads |
| Skill Ludo | Android, iOS | 1 Million+ |
| Ludo Superstar | Android, iOS | 100 Million+ |
| Ludo Sikandar | Android, iOS | 1 Million+ |
| Ludo Premium | Android, iOS | 1 Million+ |
| Ludo League | Android, iOS | 1 Million+ |
| Ludo King | Android, iOS, Windows | 500 Million+ |
| Ludo Hunt | Android, iOS | 1 Million+ |
| Ludo Fantasy | Android, iOS | 5 Million+ |
| Ludo Empire | Android, iOS | 5 Million+ |
| Ludo Club | Android, iOS | 50 Million+ |
| Playerz Pot | Android, iOS | N/A |
| Gamezy | Android, iOS | 1 Million+ |
| EWar Games | Android, iOS | 1 Million+ |
| Khiladi Adda | Android, iOS | N/A |
| 4P Ludo Pro | Android, iOS | 1 Million+ |
Please note that the download numbers mentioned are approximate and may change over time as the apps continue to be downloaded by users. Additionally, some apps may not have publicly available download numbers ("N/A"). Always check the app stores for the latest download statistics and app availability.
Skill Ludo
Skill Ludo is a popular ludo app that offers thrilling cash games with a focus on player skills. It provides a fair and competitive environment where players can test their ludo expertise and win real money. The app ensures secure transactions and smooth gameplay. With its user-friendly interface and various game modes, Skill Ludo caters to both casual and competitive players.
Have a look at these Ludo Winning Tricks and Tips & skill the game of ludo.
Ludo Superstar
Ludo Superstar is a visually appealing ludo app that seamlessly combines fun and cash games. It offers a variety of gameplay modes and challenges, allowing players to showcase their ludo prowess and earn rewards. The app's interactive elements and social features make playing with friends and family enjoyable. Ludo Superstar provides a smooth and immersive gaming experience.
Read on to find out how to become a Ludo Superstar with Zupee
Ludo Sikandar
A well-known ludo app, Ludo Sikandar offers thrilling cash games and tournaments. It boasts a large player base and a strong community, ensuring lively gameplay around the clock. The app's intuitive design and fair play policy enhance the gaming experience. Ludo Sikandar's cash rewards and regular promotions keep players coming back for more.
Ludo Premium
A premium Ludo app provides an elevated gaming experience to its users. It offers higher-stakes cash games, attracting competitive players seeking bigger rewards. The app's sleek design and smooth functionality make it a joy to use. Ludo Premium's emphasis on security and transparency adds to its appeal among cash gamers.
Ludo League
Ludo League, a social ludo app, allows players to compete against friends or other users in cash games. It offers a multiplayer mode where players can create private rooms and invite their circle for friendly matches. The app's chat feature adds a fun interactive element to the gameplay. Ludo League emphasizes fair play and responsible gaming.
Ludo King
A classic Ludo app, Ludo King has gained immense popularity for its nostalgic appeal and cash gaming options. It offers local and online multiplayer modes, allowing players to enjoy ludo with friends and strangers. The app's frequent updates and new game variants keep the experience fresh and exciting. Ludo King's simplicity and accessibility make it a favorite choice among ludo enthusiasts.
Here is what you need to do to become a Ludo King
Ludo Hunt
An adventurous ludo app, Ludo Hunt adds a twist of treasure hunting to the traditional gameplay. It offers cash games with unique themes and challenges, where players can explore virtual worlds and win real money. The app's engaging storyline and immersive graphics make it stand out among other Ludo apps.
Ludo Fantasy
Ludo Fantasy is a fantasy-themed ludo app that offers cash games with an imaginative twist. It combines ludo gameplay with elements of magic and strategy. Players can use special powers and abilities to gain an edge over opponents and secure victory. Ludo Fantasy's captivating theme and rewarding gameplay make it popular among fantasy and ludo enthusiasts.
Ludo Empire
It is a grand ludo app that aims to recreate the opulence of ancient empires within its cash gaming offerings. It offers various regal-themed game boards and challenges. The app's elegant design and smooth animations add to the overall gaming experience. Ludo Empire's rewards and promotions ensure players feel like true gaming royalty.
Ludo Club
This social ludo app emphasizes community engagement and multiplayer interaction. It offers cash games focusing on group play, encouraging players to team up and compete. The app's lively chat feature enables real-time communication, making it a fun platform to connect with fellow ludo enthusiasts.
Playerz Pot
Playerz Pot is a versatile gaming app that includes Ludo among its various cash games. It offers a secure platform for players to participate in competitive Ludo matches and win money. The app's wide range of entry fees accommodates players with different budgets. Playerz Pot's commitment to responsible gaming makes it a reliable choice for cash gaming enthusiasts.
Gamezy
Gamezy is a comprehensive gaming app that features Ludo alongside other popular games. It offers a range of cash contests where players can showcase their ludo skills and earn rewards. The app's user-friendly interface and seamless payment options make it a convenient platform for gaming enthusiasts seeking entertainment and cash prizes.
EWar Games
EWar Games is a competitive gaming app that hosts thrilling Ludo cash games. It offers a diverse gaming experience with different entry fee options and prize pools. The app's focus on fair play and security ensures a trustworthy environment for players to enjoy ludo competitions and challenge their opponents.
Khiladi Adda
Khiladi Adda is a gaming app that caters to both casual and competitive Ludo players. It offers cash games with exciting rewards and challenges. The app's inclusive approach and friendly interface make it suitable for players of all levels. Khiladi Adda's commitment to promoting skill-based gaming sets it apart as a reliable ludo platform.
4P Ludo Pro
4P Ludo Pro is a specialized Ludo app designed for intense four-player cash games. It offers various game modes and entry fee options, ensuring a personalized gaming experience for all players. The app's emphasis on strategic gameplay and fair competition makes it a preferred choice among those seeking thrilling multiplayer ludo action.
Best Ludo Cash Game: FAQs
What is Zupee, and why is it considered the best Ludo game app?
Zupee is a popular game app that stands out due to its engaging gameplay and opportunities to win real money. It offers thrilling Ludo games where you can compete against other players and test your skills while winning real Ludo money.
Is Zupee safe and secure for online gaming and transactions?
Yes, Zupee prioritizes the safety and security of its users. It employs encryption and security measures to protect your personal information and financial transactions, ensuring a safe gaming experience.
How can I deposit money on Zupee for playing Ludo?
You can easily deposit money on Zupee by linking your Paytm account. Once linked, you can make quick and secure deposits through Paytm, with the funds instantly credited to your Zupee wallet.
What happens if I win Ludo games on Zupee?
When you win Ludo games on Zupee, you earn real money, which you can withdraw via Paytm. The winnings can be used for various online transactions, or you can choose to transfer them to your bank account.
Are there any tips for improving my Ludo skills on Zupee?
To enhance your Ludo skills on Zupee, practice regularly, participate in tournaments, and join Ludo communities to exchange strategies and tips with other players. Additionally, consider watching tutorial videos and analyzing your gameplay to refine your techniques and increase your chances of winning.