Ludo is one of the most exciting games out there. Moreover, it is an age-inclusive board game as anyone and everyone can play Ludo. One of the most amazing things about playing Ludo is that it is a board game filled with immense twists and turns. Since carrying a board game is not always easy, Zupee has a better solution. You only have to download Ludo Supreme APK on your mobile and enjoy the thrill of Ludo Supreme, aka Ludo Supreme Gold. Moreover, you can win real cash up to Rs.10 Lakhs! This article teaches you how to download Ludo Supreme Apk and win real Ludo money.
Take a look at the video below to know how playing Ludo Supreme is different from the classic Ludo gameplay:
Ludo Supreme apk – Ludo Supreme Gold apk
The file format Android uses to distribute and install mobile apps is called APK or Android Package Kit. Android employs the APK file format, similar to Windows' executable (.exe) file, to distribute and install mobile apps on devices.
Ludo Supreme, aka Ludo Supreme Gold, is a mobile-based online Ludo game by Zupee. Players can access features like tournaments and multiplayer Ludo games and win real Ludo money! Below are some features of the Ludo Supreme game:
To play the Ludo Supreme APK version, download ludo App.
Ludo Supreme APK – How to play?
Available on both iOS and Android devices, Ludo Supreme Gold, also known as Ludo Supreme, is a real-time online multiplayer game. It's a fresh take on the classic board game Ludo and allows players to win actual money. The game has exciting graphics and rapid gameplay as well. Ludo Supreme, a multiplayer strategy board game for 2-4 players, is quite similar to the Classic Ludo game. However, the rules to play are different.
For example, Ludo Supreme is a time-based game where players must move within a specific time and earn maximum points. A game with two players lasts 8mins, and one with four lasts 10mins.
Steps to play Ludo Supreme – Ludo Supreme Gold
Here are the steps to play Ludo Supreme, aka Ludo Supreme Gold:
Step 1: Select the Game Format

1vs1 format
1 winner
2 winners
3 winners

Step 2: Select the tournament's format
Step 3: Roll the dice

You can begin playing without getting 6.

Step 4: Earn Points within a limited timeframe

You receive a point for each box your token moves.
You receive an additional 56 points for each token you bring home.
2 player game lasts 8mins – 4 player game lasts 10mins.

Step 5: Win the game

Capture the opponent's token to reduce their points.
The prize pool winner is the player (or players, if there are two or three winners) with the most points after the allotted time.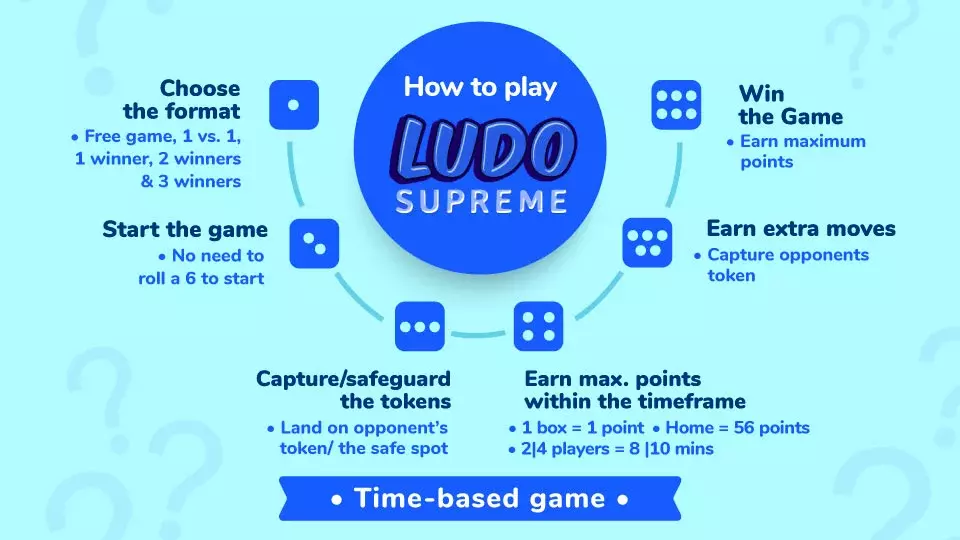 How to Download Ludo Supreme APK?
Ludo Supreme is played on a virtual Ludo board. You can download the Ludo Supreme APK,aka, Ludo Supreme Gold, by clicking this page's "Download App" button. Once you click on the button, follow these steps to install Ludo Supreme APK:
Your Android phone will request permission and notify you of the risks associated with downloading apps from a third party. Zupee is 100% secure to download.
Install the Zupee APK by selecting "OK."
Check "downloads" or access the file manager on your device to find the downloaded apk file.
Tap on the APK. Select install and then register.
Click – "Download App" button – Play Ludo Supreme – Stand a chance to win up to Rs.10 lakhs.
Why play Ludo Supreme on Android?
One of the most amazing things about Ludo Supreme or Ludo Supreme Gold is that it offers immense benefits. It has about 2cr+ downloads and gives 10cr+ in daily winnings to its users.
The major benefits of playing Ludo Supreme on Zupee are:
Make Instant Withdrawals
Secure and Legal
Supreme Cashback
24*7 Tournaments
RMG Certified
Constant Customer Support
1. Make Instant Withdrawals
One of the best parts of the Ludo Supreme APK is that it helps you withdraw your winnings easily and quickly. All you have to do is tap the "Withdraw" option and fill in your bank details. Soon, you will receive your money in your bank account. Easy Peasy! Learn about the Ludo money withdrawal process.
2. Secure and Legal
There have been a lot of gaming apps duping people with their money. However, you'll never have to worry about all this while playing Ludo Supreme APK. It is one of the top-quality Ludo apps in terms of security. Zupee protects your data and keeps your winnings safe and secure.
3. Supreme Cashback
Another advantage of playing Ludo Supreme is that it offers you cashback and referral bonuses. Thus, Zupee ensures users can earn more benefits than just their winnings. Learn about the Zupee Referral program here.
4. 24*7 Tournaments
Irrespective of whether you are an early riser or a night owl, you will be able to cherish Ludo Supreme at any time of the day. The app has 24/7 live tournaments, increasing your chances of winning.
5. RMG Certified
An RMG certificate is a stamp of approval from a licensed testing organization that confirms the compliance of online gaming platforms with RMG requirements. These standards guarantee statistical randomness and unpredictability of game outcomes. Basically, it ensures fair and honest gameplay. Thus, you can be sure that the platform is reliable and that no cheating is being done.
Take a look article to learn how to spot a fake Ludo game app online.
6. Constant Customer Support
One of the significant drawbacks of gaming platforms is that they need to provide proper customer support. However, Zupee has dedicated customer support for their users to resolve all their problems without delay. This is because Zupee believes in providing the best gaming experience to its users.
Click – "Download App" button – Play Ludo Supreme – Stand a chance to win up to Rs.10 lakhs.
Here are other Ludo online real cash games on Zupee: Download Ludo Ninja APK version | Play Turbo Speed Ludo | Win Real Cash with Ludo Supreme League by Zupee
Ludo Supreme Apk – FAQs